ARCHITECTURE AND DESIGN
Amazing architecture, Southern Heights, volcanoes that appear in each window, an infinite gallery, stones and lots of light. Native woods, unique items, looms, leather and hand-woven carpets made by Mapuche hands, star and give warmth to the decor in Hotel Casa Panguipulli.

A place where tradition and modernity meet to pick what best defines us, the taste for simple, well done. A quiet space that seduces and surprises.
Hotel Casa Panguipulli is located 2.5 kms. from Panguipulli´s center, and just over an hour from the airport of Valdivia. In a spectacular location looking to the lake, and both Choshuenco and Villarrica volcanoes, you can see a breathtaking view from every room.
EXTERIOR SPACES TO SHARE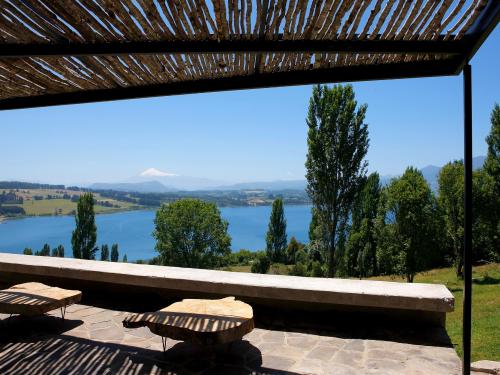 You will feel at home, a safe place to enjoy Panguipulli. For those who ask for water and moon, we have terraces to chat with family and friends and heated pool on a terrace with a fireplace offers a unique panoramic night sky.
In 3 acres you will find orchards, fruit trees and small forests dedicated to contemplation and reading.
INTERIORS TO ENJOY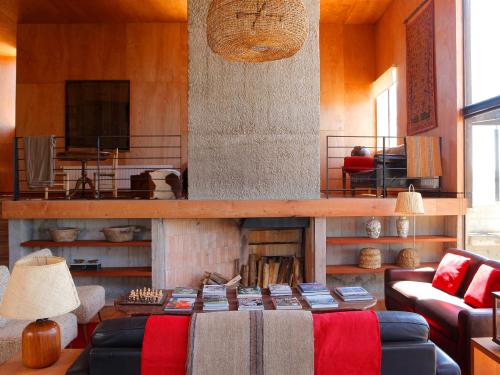 Inside, an impressive entrance hall with glass from floor to ceiling, filled with Panguipulli lake, and Villarrica volcano.
A cozy living room with two fireplaces, library and a modern ambiance with a touch of classic details. With unique items belonging to private collectors and Mapuche artisans in the area.
SUITES
Our seven suites have a unique orientation, which fills you with light, the lake and a deep green entering through the windows. Egyptian cotton sheets with many threads and two types of pillows will make your rest and relaxation someting to come back for.
BATHS
Fine materials, natural light and very spacious, evocative colors and fragrances specially formulated for Hotel Casa Panguipulli, with rain water, lime, pink, lavender, all southern products...